Instructions:
Add Your Music Personality Badge Around the Web
---
HAVE A BLOG OR WEBSITE? To add the badge:
Go back to the badge page where you can copy and paste the html code to put inside a sidebar widget on your blog or your web page.
E.g. If you have a Wordpress blog, add a new widget by following these steps.
If you are given the option and want to upload a file that contains the html code, go here for easy instructions.
---
HAVE AN EMAIL ACCOUNT AT YAHOO, GMAIL, AOL, HOTMAIL? To add the badge:
Wisestamp adds your badge (plus other desired contact info) to one or more of your email accounts. It takes around 20 seconds to download.
The badge ("your signature") appears on each email you compose in all your email accounts. You can always delete the badge from an email if you do not want it to appear. It will look like this: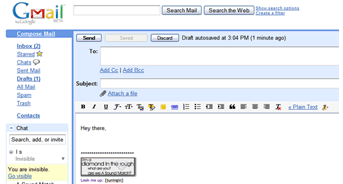 You must open and use a Firefox browser to use Wisestamp (versus Internet Explorer).
Don't have Firefox? It's free and easy to get here.
Click here to download Wisestamp (from your Firefox browser).
Click the "Download Now" button
IMPORTANT (this step is easy to miss): look in upper right corner of the browser and hit the "Allow" button.
Let Firefox "Install Now"
Restart Firefox
To
use
Wisestamp:
On the Firefox toolbar go to Tools > Wisestamp (it will appear after download).
On the Wisestamp editor window, click the "HTML" button. Cut and paste your Music Personality code into this window.
DO NOT FORGET: Erase the text [insert your username here] and type in your username.
Hit "Save." Your badge will now appear on all emails.
---
Yahoo Email process (if you do not want to use Wisestamp)
Click here for instructions.
Back to top
---
HAVE OUTLOOK? To add the badge, here are step-by-step instructions
(tested on Outlook 2003):
1. First, create a file and put the code for your Music Personality in it. How? Use a simple text editor that comes with your computer (e.g. with Windows, use Notepad, found in start > programs > accessories).

[Note: Saving a file to a text editor is like saving a Word file. But Word will not work here.]


Open a new document in the text editor.
Go back to the badge code page, look for the badge you want, drag over the code and copy it.
Go back to the blank page you just created, paste the code.
Hit save. Name the file and save it onto your desktop (so you can grab it in a minute).
2. Getting it into Outlook:
Go to Outlook
Go to the menu Tools > Options > Mail Format tab
Click Signatures button (mid-way down the page)>
Select New >
See a popup window? Type in a name for this signature. Select the option "use this file as template" > hit browse button > go to your desktop area and select the file you just named above > hit "select" > hit "next."
In the next window, you should see the badge. Put your cursor inside to erase this text [insert your username] and replace it by typing in your A Sound Match username. Contact us if you don't remember it.
[Note: you can add other contact info here like phone numbers, too]
hit Finish > hit OK.
Now you should be back at the Outlook Options window. Select the signature you just created by choosing it from the drop-down menu.
Open a new email and see your badge!
Back to top
---
How to add a widget to a Wordpress blog
Go to My Dashboard
On the left sidebar, go to "Appearance" > "widgets"
Look for the "text" widget> "add" it
On the right sidebar, on the bottom, see the text box you just added > hit "edit"
Paste your html code into the empty box > hit "done" & "save changes"
---
To watch a video showing you how to install Wisestamp and add your badge code (1:44 mins). Please 'xcuse the monster-sized video window for now... :